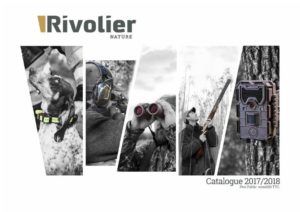 The Rivolier Group is very pleased to announce the release of the new Rivolier Nature Catalog.
This 2017/18 edition carried out internally by our Marketing / Graphic Department, has 361 pages and presents synthetically and efficiently the products making up the best offer of the sector in France. The latter is the result of long years of collaboration with the world's biggest names in Hunting and Shooting: Blaser, Sauer, Mauser, Remington, Sig-Sauer, Bushnell, Zeiss, Garmin, Fiocchi and many others.
The primary purpose of this catalog is to be a sales support tool for our sales teams, as well as for our resellers. Its presentation is thus purified and privileges the presentation of the main characteristics of the articles in the form of harmonized tables allowing a rapid information.
An electronic version is already available online on the Rivolier.com website, while the paper version is being printed and will be sent soon to our loyal customers resellers throughout the whole of France.
More :
Link to the Catalog Rivolier Nature 2017/2018