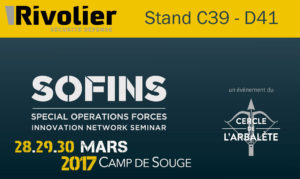 Rivolier's Security & Defense Division is taking part at the Special Operations Forces Network Seminar (SOFINS) 2017. The event is organised by the Cercle de l'Arbalète. It takes place at military camp of Souge in Martignas-sur-Jalle (Gironde, France) from the 28th until the 30th of March.
We aim to present all the scope of operational solutions we are able to provide to special forces (weapons, tactical-gear, optics, ied-eod materials, ec..).
Many of our colleagues have served in french army and some of them in Special Forces, so they know pretty good what they need.
We've posted some pictures on our Facebook Page, you can have a look at it by clicking ont the link below.
Le Special Operation Forces Network Seminar (SOFINS), est un événement dédié aux forces spéciales organisé par le Cercle de l'Arbalète. Il se déroule au Camp de Souge (33) du 28 au 30 Mars 2017.

Publié par Rivolier Sécurité Défense sur mardi 28 mars 2017